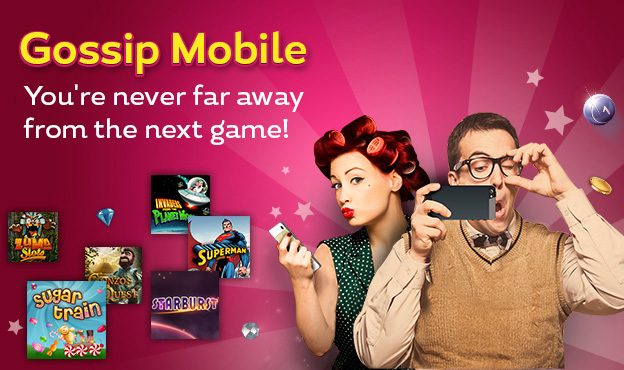 Mobile Bingo
The number of mobile bingo players is rising and bingo sites are rushing to offer bingo games and slots on a mobile platform.
play now
Gossip Bingo knows the importance of providing a high quality bingo experience and offers up some of the best mobile bingo to all their players. Enjoy a plethora of bingo and slots as well as loads of fabulous mobile bingo bonuses!
Play Bingo on your Mobile!
We know you lead a busy life so we make it possible to access all the Gossip Bingo fun on your mobile device! Now it's super easy to play mobile bingo and slots from your phone and tablet so you never have to skip out on the excitement. You can even pay your bill online, please read our pay by mobile casino page to get the details. Play on our mobile bingo site or bingo app for the highest quality on-the-go gaming in the UK!


What's all the buzz about mobile bingo?
Over the years bingo has become more and more accessible to the delight of bingo lovers everywhere. Online bingo has made it possible to play from home without having to visit a live bingo hall. Now, mobile bingo makes it possible to play anywhere, whether at home or on the go.
The simplicity and convenience of Gossip mobile makes it one of the best mobile bingo sites in the UK. It's simple because all you need is a mobile device and convenient because you have the flexibility to go out without missing any of your favourite bingo and slot games!
In addition to all the games you can play, you can also access all other features of the site on your mobile device. Claim all the exciting bonuses and promotions as well as access the cashier and support team. Mobile Bingo with Gossip is like having your own little bingo hall in your pocket!
Which bingo games can I play on my mobile?
You can access all the same fun and games from your phone and tablet. Join all your favourite bingo rooms and be there for all the MEGA monthly jackpots. Spin loads of mobile slot games and win with the swipe of a finger. When it comes to mobile bingo and slots, Gossip Bingo is the best place to play.
Gossip Bingo App for iOS
Gossip Bingo is all about pampering their players – especially our mobile bingo players! You can claim all the amazing bingo treats from your mobile including bonuses, free bingo, and MEGA jackpot games!
For the smoothest mobile bingo experience get the free bingo app on iTunes! The Gossip Bingo app offers all the same excitement as the site and you can access it easily from your iPhone and iPad! While we don't have a bingo app for Android just yet, Android users can play on our amazing mobile bingo site!
Is playing bingo on my mobile 100% safe?
Yes. We put an emphasis on the security of our players and our main concern is providing you with the safest mobile bingo experience. Only the most trusted payment and withdrawal methods are offered including the most popular method – PayPal!

Join the team and have a fantastic time playing mobile bingo at Gossip Bingo!
Mobile FAQ
The same username and password you have created on your mobile device can be used to login on your PC. Just open your PC browser, enter the URL of www.gossipbingo.com and follow the login instruction on the site.
You can find a link on the bottom of the login screen entitled 'Forgot password' when using your mobile device. Tap on the link, fill in the email address used to create your account and you will receive the necessary information to login again on your email account.
The most popular bingo games like 90 ball and 75 ball are available for you to play and enjoy. You can also play the most popular slots games like Fluffy Favorites, Shaman's Dream and Starburst. Just swipe left or right through the lobby tabs to explore all the exciting rooms we offer.
We are constantly making an effort to add more games, so be sure to check the instant games tab and the game menu in the rooms for some exciting new surprises.
Coming soon! Make sure the email address that you have registered to your bingo account is correct on the PC account page so that we can inform you when it is available for download.
On Android devices, such as the Galaxy S series, you just need to open the browser and navigate to www.gossipbingo.com, like you're used to. You will use the same login information you have been using for the desktop site, and then you can begin playing.
On Apple devices such as the iPhone or iPad, open the Safari browser and navigate to the game www.gossipbingo.com. You can either play directly in the safari browser, or add the game icon to your home page; - you will see instructions on the bottom of the page. Follow the instructions and whenever you want to play bingo, and start playing directly from the home page.
For the best game experience we recommend Safari on Apple devices and on Android devices you may use the built-in browser or Chrome.
YES YOU CAN! The chat is available when you enter a Bingo room. When you type a message everybody will know you are chatting from your mobile device – its fun!
While you are playing Bingo you can chat with other players in the same Bingo room. On your Smartphone, tap the chat icon (lower left of the screen), and the chat panel will open, allowing you to type your message. Tap the send button so everybody can see what you typed. On your Tablet, tap on the chat field and do the same. Use your finger to scroll up and down the chat panel to view previous messages.
Remember, the usual chat etiquette rules apply and our CMs will be in the chats to assist you and join in the fun.
Tap Account (top right button) in the lobby, and then click the Deposit button. Choose your preferred payment method and continue with the specific instructions for the specific payment method you selected.
You can choose to deposit with one of these payment methods:
All deposit bonuses are valid through mobile devices when making a first time or second time deposit. We will make sure you get the bonus funds just as you do on the PC.
Currently you can withdraw funds only from the PC. Withdrawals are available once you have deposited the required minimum amount. Login on your PC with the same username and password, open the cashier and select withdraws. Please see the site Terms & Conditions for more details. Last Updated on 13th of April 2015
Your security is guaranteed with us. All payment transactions take place in a trusted, highly secure environment. Our secured servers encrypt all your details including, and most importantly, your card number information.
The information you send is transmitted securely through your mobile device to our server using SSL certificate and encryptions.
Your main account details are available on the account button located on the upper right corner of your screen; you can find your balance there. For more details on your account you need to login to your account on the PC.
Currently you can view your total number of loyalty coins using the Account button, located on the top right of your screen. In future versions we will allow you to convert these loyalty coins into bonus money and play.
Currently you can only set your limits on a PC. In order to do so, login to your account on the desktop and open the cashier, then select 'limits'.
Yes, when you play you are always using the same gaming account. Deposits, wagering, winning and withdrawals act on the same account, whether you are playing on your mobile device or on your PC.
We support nearly all Smartphone devices including iPhone, iPhone 4S and iPhone 5/5S/5C, Samsung Galaxy S2, S3 and S4, Nexus 4 and Galaxy note 1 & 2.
You can also use tablets such as Apple iPads, including the new iPad mini; as well as Android tablets such as the Galaxy Tab and Nexus 7.
On Apple devices we recommend using iOS6 & iOS 7, on Android devices recommend Android 2.x or 4.x
Yes, your money is safe. We track everything so in a case of disconnection or a technical problem we will always have your latest account balance and winning events recorded safely on our servers.
If you were disconnected during a bonus game in one of our amazing slots games, just login again and tap on the same game you were playing before. Your bonus rounds will continue right from the point at which your game stopped.
If you leave a bingo game intentionally or accidentally, don't worry. Your cards are still playing in the room you left. If you had any winnings you will be able to view those on the site and your balance will be updated.
Login on your PC and access your account details page. There you can find all your game history and winning events.
Open the cashier using the account button (top right on the screen) and tap deposit. The cashier will appear and allow you to add up to five payment methods using the Add a payment method button.