VIP Area FAQ
Frequently Asked Questions
For any questions about our exciting Star Bazaar loyalty program, see below a list of all the information you need to know.
Please Note:
The Star Bazaar is a brand new program designed to reward loyal VIP Players. This program is in addition to all other VIP perks, including exclusive VIP promo codes and our free VIP Bingo Room. The Star Bazaar scheme is currently in Beta, and we appreciate your patience with any teething issues whilst we launch the program.
What is the Star Bazaar?
The Star Bazaar is an online gift shop where players can get free gifts with stars they accumulate when they deposit. You don't have to do anything extra, just play your favorite games and watch the stars pile up!
How many stars do I have?
You can see how many stars you have in your account page in the 'VIP' tab.
What can I get for my stars?
You can exchange your stars for fab gifts, loyalty points, huge bonus codes and bingo tickets.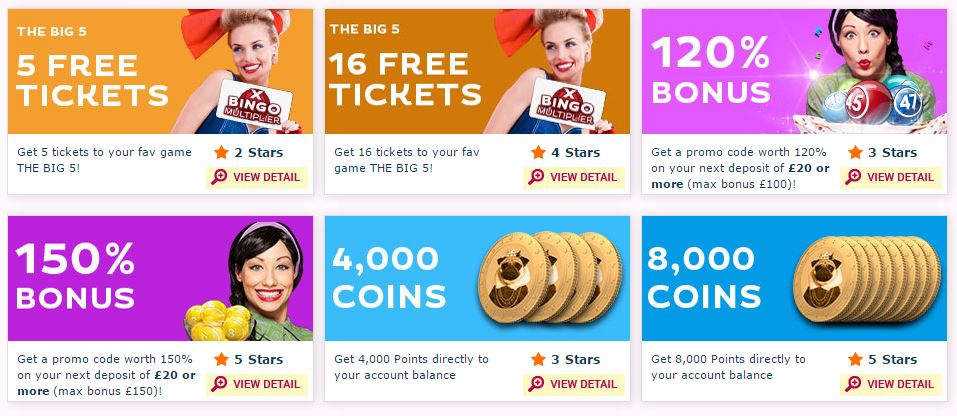 How many gifts can I get?
As many as you can earn with the stars you have each month, the sky is the limit!
How much is a star worth?
Each time you accumulate a total deposit amount of £75 you receive a star.
How long have I got until my stars expire?
Your stars expire on the last day of each month at 23:59 (UK time), so you have 1 month to use your stars.
Can I choose more than one gift?
Yes, as many as you'd like up to the end of the month with the amount of stars you have.
What do I need to know if I bought bingo tickets?
The bingo tickets will be credited to your account within 96 hours. You can max buy up to 96 tickets per game. Tickets for the monthly game can be purchased up to 48 hours before the game. Tickets purchased afterwards are good for game next month.
How can I track my gifts?
As soon as you place an order you will receive an email with the gift information & reference number. In the 'My Pressies' tab you can also see the history of your gifts. Once the order is shipped you will be informed with an additional email. For this please make sure to add us to your safe list.
If I have any questions or problems with my order who do I contact? For any needed information or comments regarding your order please contact the VIP team at
vip@Gossipbingo.com
.
T&C's Star Bazaar:
The GOSSIP BINGO Star Bazaar loyalty scheme terms and conditions below are in addition to the terms and conditions of our site, they include delivery details and our returns policy. If you have any extra problems or queries please contact Gossip Bingo support or your dedicated VIP team
vip@Gossipbingo.com
.
Star Bazaar prizes can only be ordered to the UK and Ireland. Non-UK and Ireland residents can use
their stars to buy loyalty points.
Once your order has been processed you are unable to cancel or amend that order.
GOSSIP BINGO players are responsible for putting the correct data onto the order forms.
Failure to do so may result in extra delivery charges being made to the player.
GOSSIP BINGO players are responsible for the accuracy of the email address, delivery address and a contact telephone number in their GOSSIP BINGO account.
GOSSIP BINGO players are responsible for ensuring someone is available to receive and sign for the product on delivery. Failure to do so may result in excess delivery charges if the order is unable to be delivered.
If an item is damaged through the manufacturer, warehouse, in courier neglect or in transit, the third party provider will replace that item, within a 14 day return period. After this time period no returns will be accepted. However, goods damaged due to customer neglect or through general wear and tear will not be replaced or refunded.
Orders are subject to stock availability. Should an item be out of stock, customers will be advised and either a new order will be made or alternatively GOSSIP BINGO may agree to refund your stars in full.
All customisable items are non-returnable and non-refundable
GOSSIP BINGO reserves the right to change or amend promotions at any time.
GOSSIP BINGO reserves the right to withdraw any item from the GOSSIP BINGO Star Bazaar at any time.
GOSSIP BINGO reserves the right to remove any product line from the GOSSIP BINGO Star Bazaar at any time.
The point prices of the items in the shop can change at any time. However once an order is submitted & confirmed, the price of the item will remain the same.
A refund of stars due to returns or order damage will occur within 72 hours of the agreed order cancellation. Items that had consecutive failed deliveries will be refunded minus the point's price valuation for the delivery of the item.
Standard GOSSIP BINGO Terms & Conditions apply.
GOSSIP BINGO management decision in all matters is final.
REDEEM COINS
Redeem your coins into bonus money: 1,000 coins gives £1